Theatre & Dance Department
The Department of Theatre & Dance provides opportunities to investigate the human condition by exploring creative expression through collaboration in live performance, classroom work, and co-curricular activities.
Live performance is a collaborative experience that is multi-disciplinary at its core.
Ensembles commune in civic arenas in search of freedom, self-expression, and the exchange of ideas. Students find their identity (or even an aspect of it) on our stages, in rehearsals/ studios, and or in the classroom is an essential aspect of representative storytelling. It enhances belonging and assists in the development of compassionate global citizens.
The department's primary academic focus is our six mainstage productions. Students can also explore many of the specialized areas that make up our discipline. Current courses vary from choreography to set design.
With a vibrant cocurricular program, students can participate in one of the many dance clubs on campus as well as a host of student-directed one-act plays produced by the Drama Labs.
Acting & Directing
Dance & Choreography
Design & Production
The Theatre Program is designed to empower, inspire, and transform students through the art of live storytelling. The curriculum is grounded in the act of personal storytelling and a multi-disciplinary approach to the theatrical process. Some current course offerings include hip-hop theatre, devised theatre, directing, to mention a few.
The Dance Program welcomes students as movers, creators, and scholars. The program is designed for students and the extended community to experience the concept of dance as a language, exploring movement as a form of communication and expression fundamental to all cultures. Dance classes are offered through athletic, academic and extra-curricular offerings. Current class offerings include modern, ballet, jazz, improvisation, choreographic elements, and dance on camera.
The Design and Production Program enables students to become involved in all aspects of theatrical production. The department offers courses in costuming, lighting, set design, and stagecraft. Advanced courses allow students to work as designers on department productions, under the guidance of the Design and Production faculty. Additionally, students are encouraged to participate in department productions serving as the technical crew during performances. In both classes and productions, students gain practical, hands-on experience with collaborative work in designing, constructing, and implementing creative ideas onstage.
Recent Performances
Attending Performances
Our events are first-come first-serve seating. We recommend arriving 30-45 minutes prior to showtime in order to secure your seat for the show. All persons in your party must be present to claim their seat. There is no saving seats and no late seating.
Families of students involved in the production and campus adults who come to see the show can check in with the House Manager to receive priority seating. Please arrive early (30-45 minutes prior to showtime) to secure your seat for the show.
Our Faculty
Learning happens across all aspects of our campus. Andover's faculty are subject matter experts, mentors, stewards of Knowledge & Goodness, and much more. Robert Lazar is the department chair.
Katherine Clark
Billy Murray
Bradford Seymour '00
Judith Wombwell
Ellie Dixon
Assistant Costumer
[email protected]
view full profile
Ms. Dixon has enjoyed working backstage and in preparing costumes for faculty-led and student-led theatre and dance shows since 2018.
Allen Grimm
Instructor, Theatre and Dance
[email protected]
view full profile
Theatre and Dance Department Instructor
Robert Lazar
Instructor and Chair, Theatre and Dance
[email protected]
Instructor and Chair, Theatre and Dance
Kareem Lewis
Instructor in Theatre & Dance
view full profile
Allowing your body to be a vessel for expression, that's what drew me specifically to classical ballet
Past Performances
2022-2023
2021-2022

2020-2021
2019-2020
2018-2019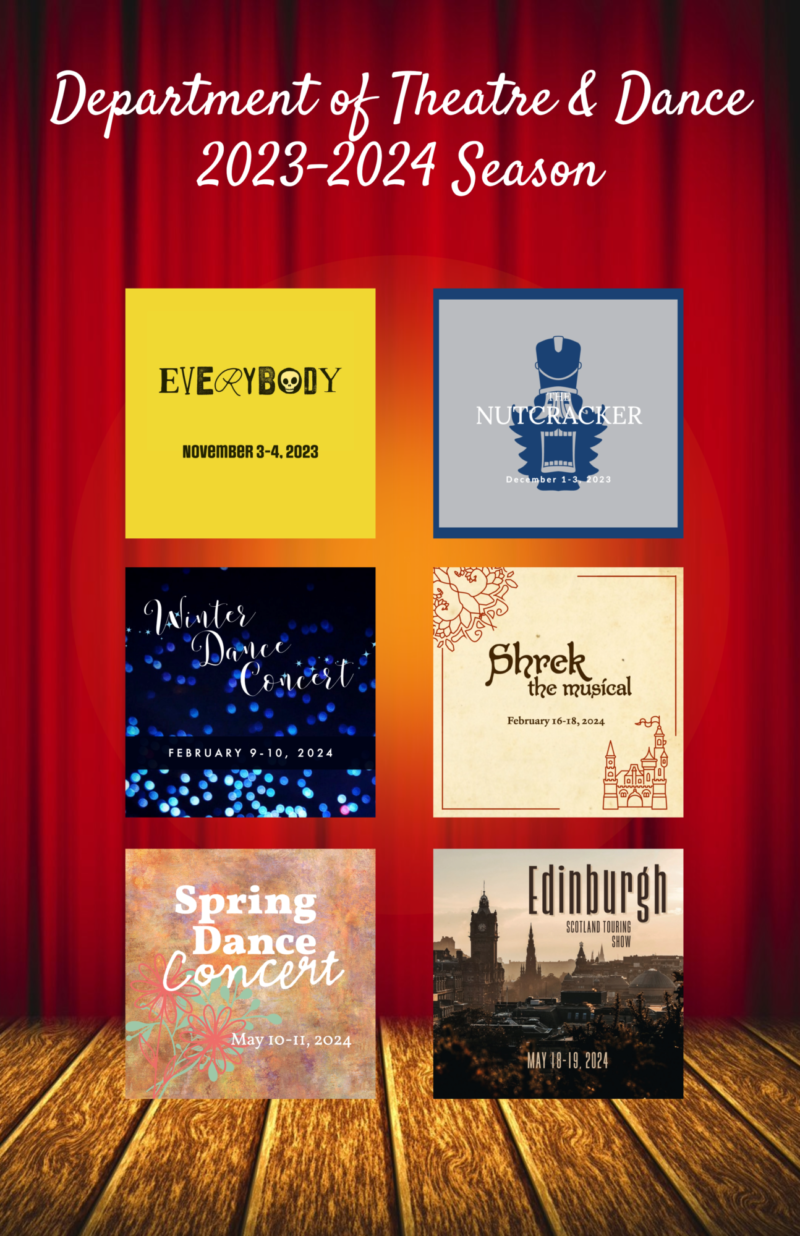 Sample Courses
Costuming | THD 321
An introductory exploration into the areas of costume design and costume construction, this course will highlight primary design elements utilized in costume design for the stage and screen.
Directing | THD360
Since directing plays is the most complex of theatrical tasks, this course will focus on methods to unlock the life of
a script in the realization of production. Studies will include historic styles and productions, emphasizing their staging. Students will learn the dynamics of floor plans and their effect on blocking, the potentials for lighting and its effect on mood, the importance of rhythm and spectacle, and strategies to harness them. While no class on directing can function without including discussion of the actor's craft, this class will only touch on this area.
Choreographic Elements | THD525
This course investigates choreographing dances in a variety of genres and styles for the stage. Students will be led through explorations and formal exercises to learn how to generate and manipulate movement in clear and innovative fashions. Coursework will culminate in a final presentation of original compositions. Students will also examine and analyze works of professional choreographers to gain a deeper understanding of dance elements and choreographic tools.

1
domestic or international trip each year to various theatre and dance festivals
4
performance spaces varying from 90 to 300 audience members
6
mainstage performance opportunities for students and 6-8 student-led productions per academic year
10+
student-led theatre & dance related clubs ranging from acting/directing to hip hop to jazz dance
Keep Exploring