Student Clubs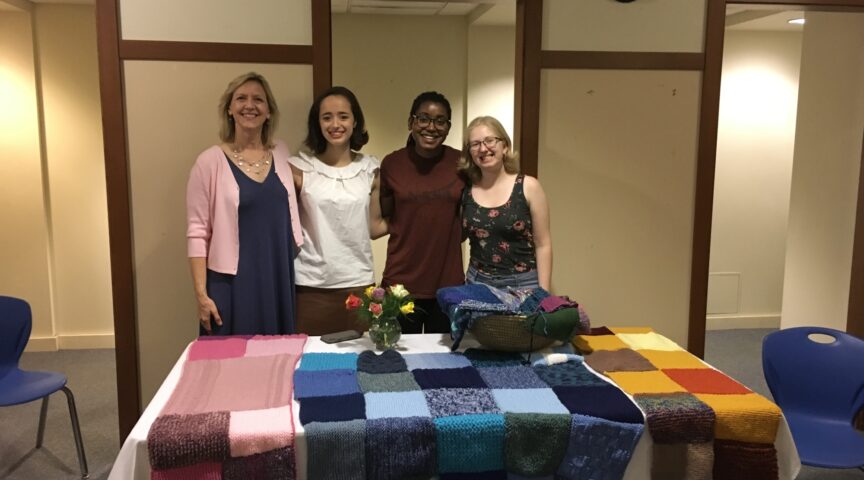 Andover Christian Fellowship (ACF)
Andover Christian Fellowship provides an opportunity for students to fellowship in a small group, consider the Bible and pray together.
For more information about ACF, please contact The Rev. Gina Finocchiaro at 978.749.4138.
Catholic Student Fellowship (CSF)
Mission/vision: Serving faith, justice, and love of neighbor
Students in the Catholic Student Fellowship gather weekly to share a meal, build community amongst the day and boarding students of the Catholic community, and participate in informal and formal discussions led by students, faculty, alumni, or guest speakers. The club welcomes all students, those with or without faith. Curious? Questions about Catholicism? Your roommate is Catholic? Join us!

Framing the discussions and activities of the CSF is an understanding of Catholicism's role in the world to serve and to better humanity and the earth. As such, many CSF students are involved in and lead community engagement and outreach projects on and off-campus, locally, globally, and virtually.
"A culture of encounter and a culture of dialogue: this is the only way to peace…" Pope Francis
The largest faith club on campus, CSF takes a lead role in interfaith/interreligious gatherings, organizing a panel presentation of students from across beliefs and ethical traditions; hosting an annual Ramadan dinner with the Muslim Student Association; writing an Abbot grant for a spirituality-and-religion-themed Think Fast game show, and coordinating the annual United Nations World Interfaith Harmony Week, with its theme "Love of God, Love of the Good, and Love of Neighbor." The "Wrap Your Neighbor in Love" interfaith knitting/crocheting project and wellness initiative, now in its fifth year, has gifted more than eight hand-made blankets to immigrant families.
CSF meets every Tuesday evening for dinner and fellowship.
For more information about CSF, please contact Dr. Mary Kantor at 978.749.4137.
Culture, Philosophy, and Religion (CPR)
Culture, Philosophy, and Religion invites students from any and all religious or spiritual background to turn over issues of moral and ethical weight together in conversation from a variety of perspectives.
For more information about CPR, please contact The Rev. Gina Finocchiaro at 978.749.4138.

Muslim Student Association (MSA)
The Islamic community at Andover is a tightly-knit and dynamic group. Those of Muslim faith pray together, gather together, and organize events to inform others of the intricacies of their long-standing religious heritage. In addition, Muslim students work to inform the school community of their faith through their participation in discussions and various interfaith events.
The Muslim Student Association is open to all Muslim students and to those who seek to learn more about Islam. Muslim students gather each Friday for Jummah prayers, along with hosting a weekly dinner meeting.
In addition to weekly prayers, gatherings are organized to mark important Islamic celebrations such as Ramadan, Eid-al-Fitr, and Eid-al-Adha. Students interested in observing Ramadan should contact the Chapel to make arrangements for both observing the fast and accommodating special dietary needs. Our campus ministry has also been bolstered by the recent opening of the Andover Islamic Center. This facility is located just three miles from campus.
For more information about MSA, please contact Mr. Noureddine El Alam at 978.749.4240.
Jewish Student Union (JSU)
The Jewish Student Union is open to any student interested in deepening their understanding of Judaism, both spiritually and culturally. The JSU organizes Shabbat celebrations weekly, Shabbat dinners, bagel brunches, as well as provides opportunities to observe and partake in the traditions, history, and cuisine of Jewish tradition. These include the building of the Sukkah during the fall holiday of Sukkot, a Chanukah party, commemorations for Holocaust Remembrance Day, and other holiday and cultural offerings.
Every winter term the JSU sponsors Jewish Cultural Weekend, which most often includes a speaker or performer along with special celebratory meals. Recent presenters for Cultural Weekend have included Jess Salomon and Eman El-Husseini, a Jewish-Palestinian comic duo; Arie Kaplan (screenwriter for TV, video games and transmedia); and Reb Moshe Waldoks on "What's Jewish about Jewish Humor?"
For more information about JSU, please contact Rabbi Joshua Greenberg at 978.749.4131.
Keep Exploring