Program
The IRT program is designed for college juniors and seniors, recent graduates, and working professionals who want to continue their graduate education in the humanities, social sciences and education.
All participants receive the following support throughout the graduate school application process at no charge, which include:
Individualized support and extensive counseling as you clarify your graduate education and career goals, choose graduate programs and apply to a renowned consortium of graduate schools across the country;
Application fee waivers for 10-12 graduate programs, a savings of at least $1,000;
One-on-one coaching and advising as you fine-tune statements of purpose, resumes, and writing samples;
Personalized support throughout the matriculation and placement decision-making process.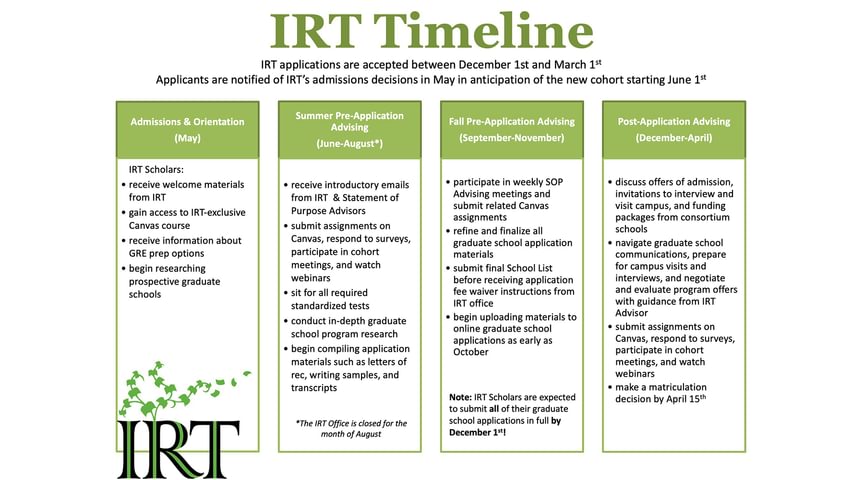 The IRT seeks to address the lack of teacher diversity in American schools, colleges, and universities.
IRT Program Description
The syllabus consists of traditional and cutting-edge theory and cultural criticism in the disciplines of education, the humanities, and social science designed to introduce students to the philosophical rigors associated with the kinds of texts one encounters throughout graduate study. Programming also includes lectures, writing conferences, debates, and presentations by nationally known educators, artists, and poets. Students also prepare for the GRE and begin work on their statements of purpose.
During the month of July, IRT Scholars will have the opportunity to engage virtually with recruiters from our consortium of graduate schools..
Statement of Need
An evaluation of the 50 states and the District of Columbia found gaps between the percentage of students of color and the percentage of teachers of color in every state. In more than 20 states, these gaps were alarmingly wide totaling 25 percentage points or more. The gap between teachers and students of color continues to grow even as students of color make up almost half of the public school population.
Similarly, a diversity gap persists on postsecondary faculty at 2- and 4-year colleges and universities. Among full-time professors, 84 percent were White, 4 percent were Black, 3 percent were Hispanic, 8 percent were Asian/Pacific Islander, and less than 1 percent were American Indian/Alaska Native.
Why teacher diversity matters
At the IRT, we believe that teacher diversity is intrinsic to educational excellence, and we embody clear standards of excellence for teachers that emphasize mentorship, rigorous teacher preparation, and teacher effectiveness.
Teacher Diversity and Quality: In every heuristic, diversity brings creativity, rigor, strength, endurance, flexibility, and a propensity for evolution and innovation.
Teacher Diversity and Educational Excellence: Teacher diversity contributes to an inclusive school environment, multicultural curriculum, and a higher level of engagement of students of color.
Teacher Diversity and Social Impact: By early identification and mentorship of students considering careers in education, IRT harnesses the potential of students committed to diversity and mitigates the racial disparities in teaching workforce.
Keep Exploring