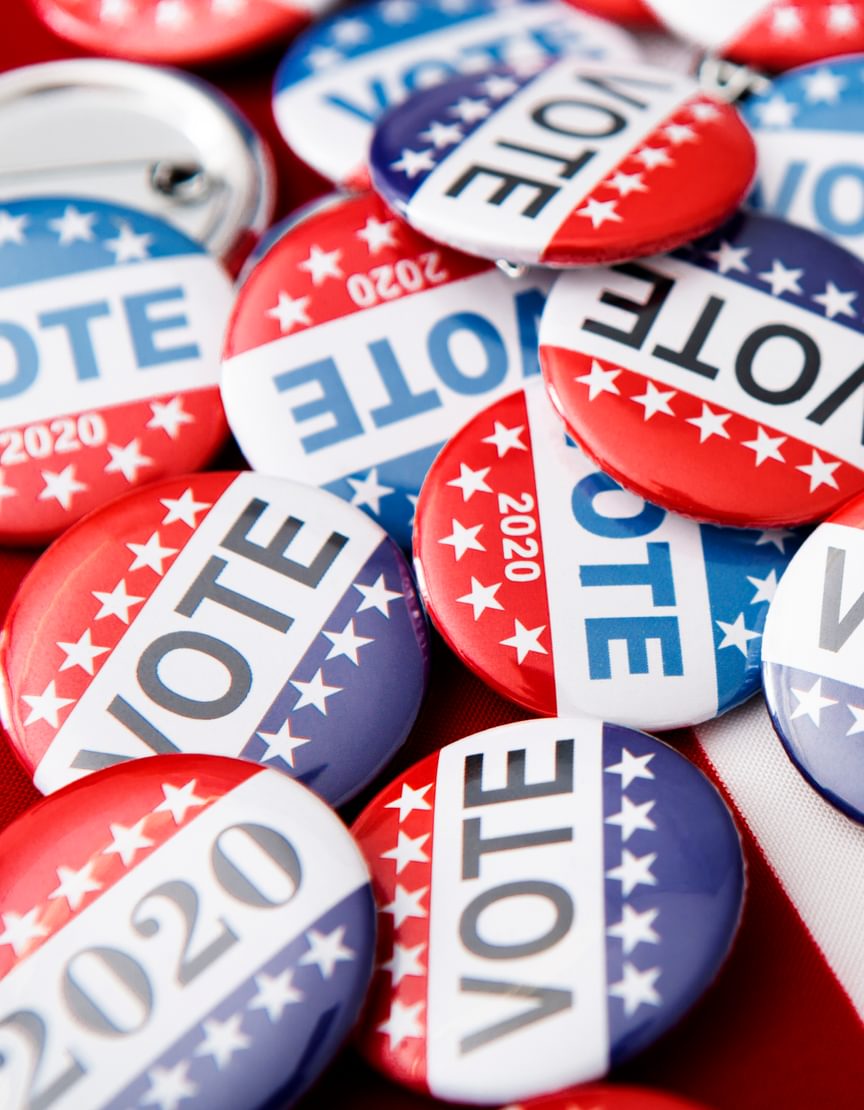 November 03, 2020
Election perspective from the Head of School
The unity of knowledge and goodness compels us to face challenges with intellectual rigor, humility, and empathy
by Raynard S. Kington, MD, PhD, P'24
Pressing toward Election Day—with record numbers of citizens across this country having already cast their ballots—Andover's students, faculty, and staff are exploring the power and importance of democracy in action.
Participation in the democratic process is one of our greatest privileges and responsibilities. Engaging in conversation and debate, knowing how to navigate the structures and systems that shape our communities can have profound impact in our lives. This is true for students who are voting for the first time and for those engaging with the issues but not yet old enough to cast their ballots. This is especially true as we all witness what may be remembered as the most divisive political season in a lifetime.
At Andover, we have the benefit of deeply-held school values to guide us through challenging times. The unity of knowledge and goodness—essential to academic excellence—compels us to face these challenges with intellectual rigor, humility, and empathy.

Participation in the democratic process is one of our greatest privileges and responsibilities.
"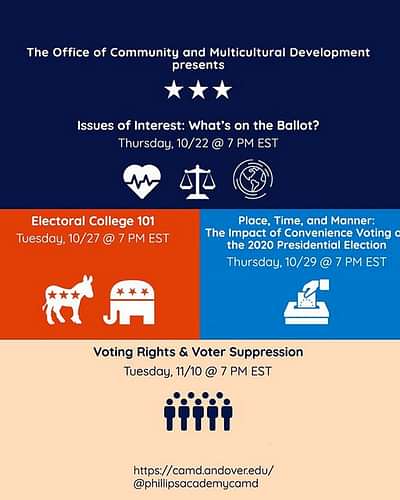 We must also uphold our community standard of civil discourse. This practice leads to deeper understanding; it is an essential component of an intellectual community; and it is crucial during these turbulent times.
Inspired by its values, Andover is responding to these historic times with educational programs and resources for support. The Oliver Wendell Holmes Library and the History and Social Sciences Department developed a special series to explore presidential elections, past and present, from a range of viewpoints. CAMD programs are examining ballot questions, the Electoral College, and voting rights. Empathy, Balance, and Inclusion instructors are considering a set of prompts to spark conversations among students following the election.

Preparing the campus community for an outcome in the presidential race or an extended process—perhaps without a winner declared on November 3—also has been on my mind. I am grateful to colleagues in CAMD, Sykes Wellness Center, the Chaplaincy, and Brace Center for Gender Studies who will host Zoom drop-in sessions and affinity spaces for conversation and support.
While we are approaching Election Day on the calendar, it is also painfully obvious that the "political season" is anything but seasonal. Combative rhetoric and incivility disrupt our society daily—all the more reason why I am grateful for places like Andover. This community is passionate about the exploration of ideas and the pursuit of knowledge to advance the human condition. No matter what we may think of an idea, our values ask us to treat those who are part of the intellectual exchange as people worthy of our respect.
We will continue to lean in to Andover's mission to educate with a focus on knowledge and goodness. To my mind, there is no better expression of our responsibility to support one another and to advance democracy in action.
Other Stories