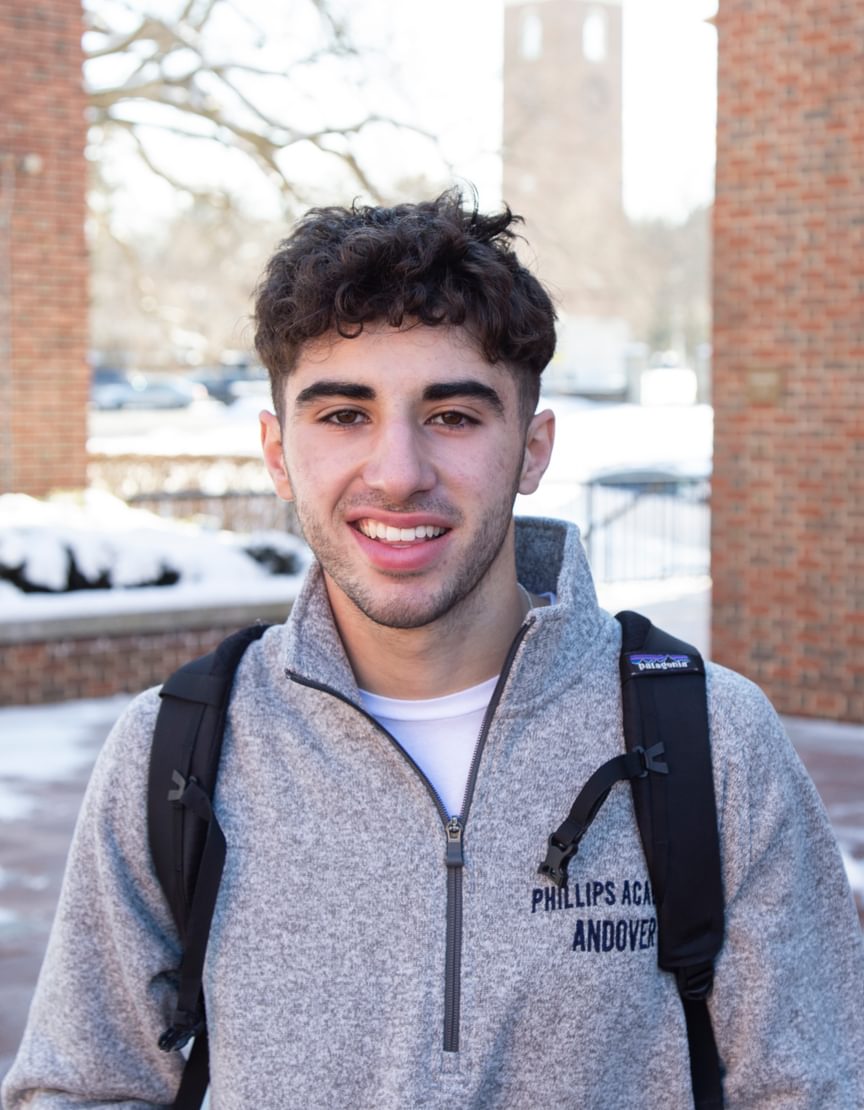 Joe, Lower
"My dorm is filled with a great group of guys. My friends make it feel like home."
Joe is a new lower from Pocasset, Massachusetts. He's quickly acclimated to campus life thanks to his dormmates and supportive faculty who have helped him with Andover's academic rigor. As an incoming sophomore, Joe's schedule is mainly comprised of required classes, though he has flexibility throughout the afternoon and evenings. And on the weekends, he loves heading to downtown Andover to grab a bite to eat and watching his fellow Andover athletes compete.
Wake Up | 7:15 a.m.
Joe wakes up in his dorm and gets ready for the day. He walks across campus to breakfast at Paresky Commons by 8 a.m. before heading off to his first class at Samuel Phillips Hall.
Period 1 | 8:30 - 9:10 a.m.
History 201: World History: Thematic Approaches, Exchange, Resistance, and Adaptation, 1400 C.E.–1800 C.E // Instructor: Erica Nork
This course will examine how economic, intellectual, and social change developed as a dialogue between peoples of the world from 1400 to 1800. By examining primary and secondary sources from multiple perspectives, students will work to contextualize local experiences within global transformations and will be encouraged to understand historical change as a dynamic process. Areas of study will include economies of silver, the Atlantic slave trade, gunpowder empires, and religious reform and transformation.
Period 2 | 9:20 - 10 a.m.
Math 300: Fundamentals for Precalculus // Instructor: Troy Turick
A two-term course for students who have completed a yearlong geometry course, Fundamentals for Precalculus covers topics in intermediate algebra (as listed in the course description of MTH320) and emphasizes algebra skills required for success in precalculus. Upon successful completion of MTH300, students will be prepared for MTH330.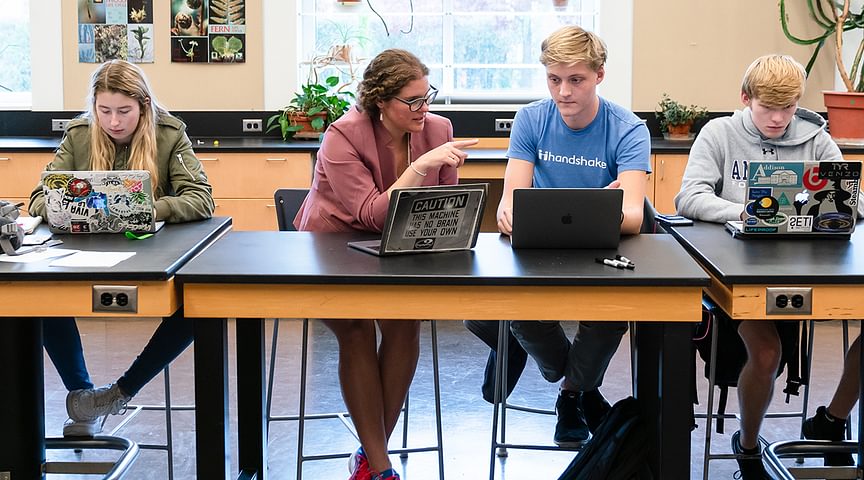 Conference Period | 10:05 - 10:45 a.m.
Depending on his current workload, Joe will spend conference period with his instructors in math, chemistry, or history. Conference period allows him some extra time to receive guidance on lessons and assignments.
Period 3 | 10:50 - 11:30 a.m.
Chemistry 250: Introduction to Chemistry // Instructor: Brenden Mackinson
An introduction to the chemical view of the material world, including atomic theory, atomic structure, chemical reactions, the nature of solids, liquids, gases, and solutions, general equilibria, acid-base theories, electrochemistry, and aspects of nuclear chemistry. Emphasis is placed on developing problem-solving skills as well as on making connections between chemical principles and everyday life. A college-level text is used, but the pace of this course is adjusted to ensure that students have ample opportunity to ask questions. Laboratory work
is an integral part of the course.
Period 4 | 11:40 a.m. - 12:20 p.m.
For his athletics requirement during winter term, Joe has Flexible Fitness with strength and conditioning coach, Mr. Collins. He'll head to the Roseneau Fitness Center in Borden Gym for workouts that help him prepare for baseball season.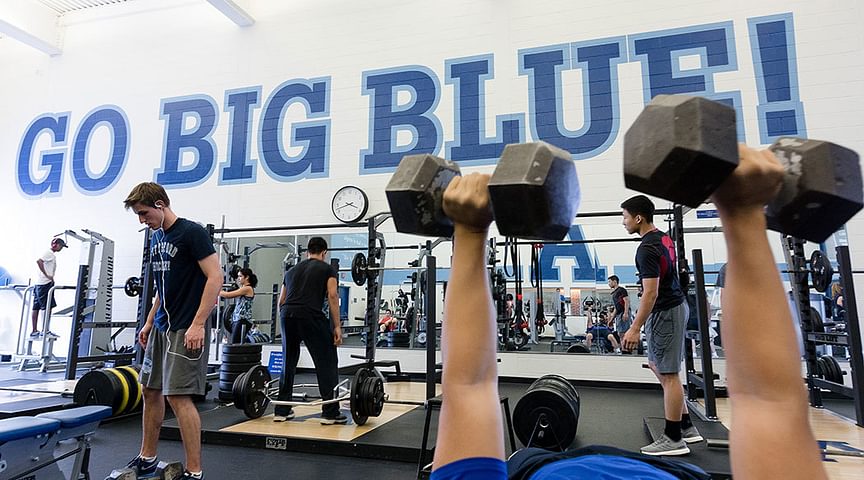 Period 5 | 12:30 - 1:10 p.m.
Joe goes back to Paresky Commons for lunch and to meet up with friends. His favorite items on the menu: BBQ chicken stromboli, and the stir-fry station.
Period 6 | 1:20 - 2 p.m.
English 200: Writing to Read, Reading to Write // Instructor: Caroline Engelmayer
The focus shifts to reading and writing about poetry. While the course introduces literary terms and strategies for
understanding poetry, the literature serves primarily as an opportunity for the students to work on writing skills, drawing on the lessons of Term 1 and reinforcing argument and persuasion as patterns of thought that can guide the writer logically through a discussion of a poem.
Period 7 | 2:10 - 2:50 p.m.
Spanish 300: Third-Level Spanish // Instructor: Katherine Matheson
SPA300 is a course for those who have completed SPA200 or have been otherwise placed at this level. At the end of the year, students are expected to attain a high-intermediate level of proficiency, as described by the ACTFL scale. All the grammar notions and communicative functions presented are closely intertwined with the content, which focuses on a different subject each term. Throughout the year, students read authentic texts from a variety of genres: poetry, songs, short stories, short plays, newspaper opinion articles, reports, cartoons, essays,
and interviews.
Afternoon | 3 - 4:50 p.m.
Once classes are complete, Joe goes to the indoor batting cage for preseason training. On the days when he doesn't have his Flexible Fitness class, he'll also go to the gym to get a workout in. If he finishes early, he may head back to his dorm to get an early start on homework.
My dorm is filled with a great group of guys. My friends make it feel like home.
"
5 - 11 p.m.
Joe eats an early dinner at 5 p.m. with friends. Then it's either back to his dorm or over to the Oliver Wendell Holmes Library to finish his assignments. Once his work is done for the day, he hangs out with friends and relaxes in his dorm.