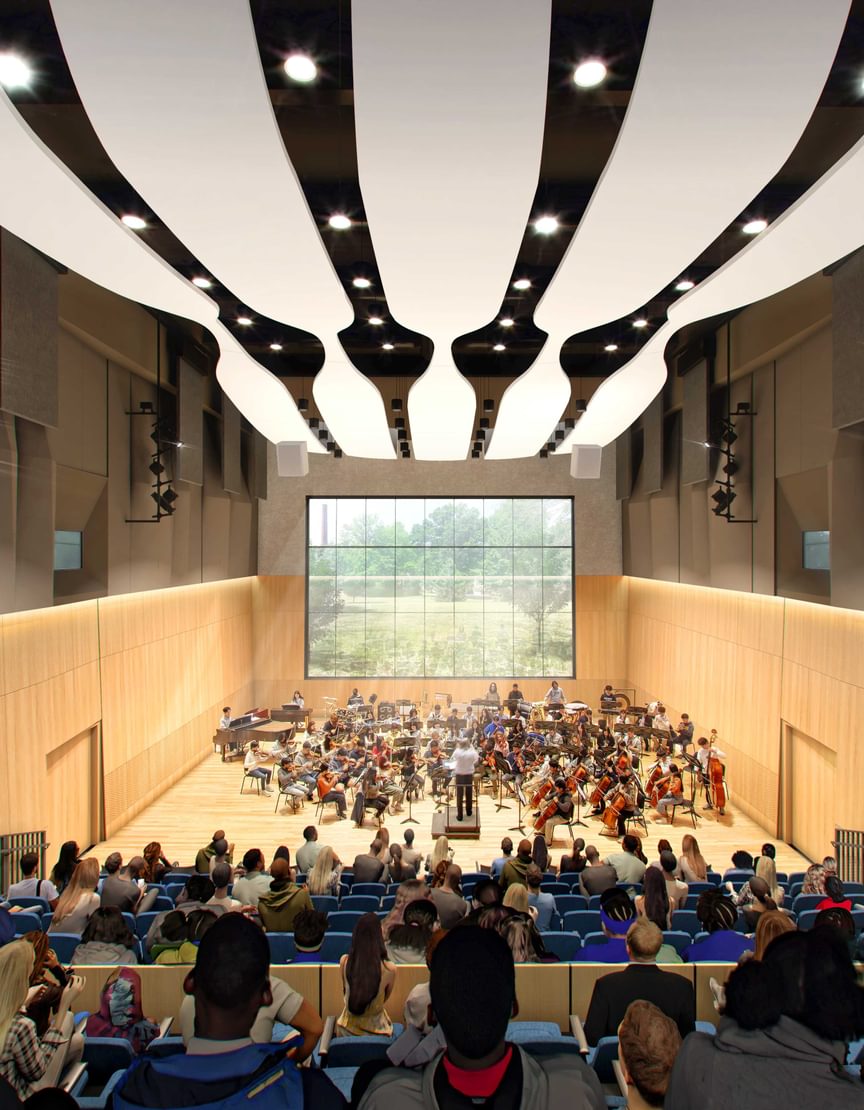 February 15, 2023
Cue the music!
Andover students to practice, perform, and create at Falls Hall
A new home for music will be named Falls Hall, in honor of Board of Trustees President Amy Falls '82, P'19, '21, and her husband, Hartley Rogers P'19, '21. The board's decision was announced following their winter meetings. The Falls-Rogers family, including daughters Alice '19, Athena '21, and Eleanor, were on campus for a ceremonial groundbreaking to mark the milestone.
The facility will be Phillips Academy's first purpose-built structure for music education and performance. Located on Phillips Street, adjacent to the Peabody Institute of Archaeology, the 30,000-square-foot center will become the western anchor of a new "cultural corridor" on campus.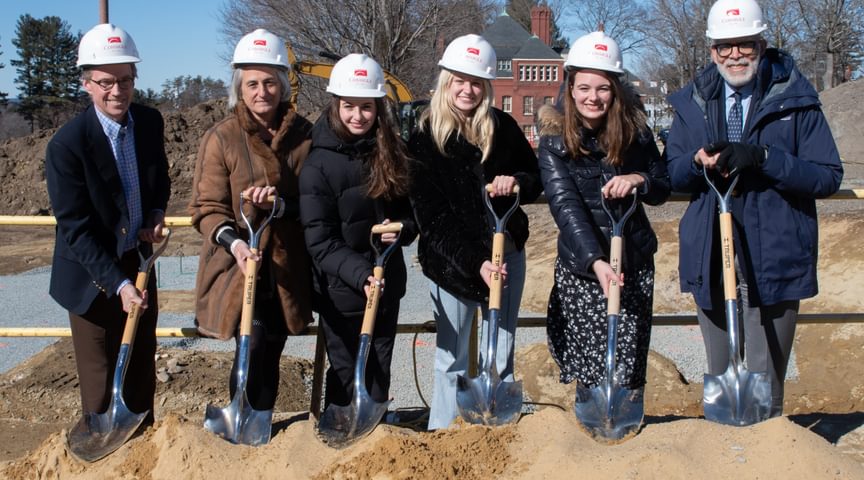 The building is made possible thanks to $24 million in Knowledge & Goodness campaign investments, with additional funding contributed by the Academy. Included in the campaign total is a leadership gift from Falls, who is Chief Investment Officer at Northwestern University, and Rogers, who is Chairman of Hamilton Lane.
"Music has played a significant role in our family's life," said Falls. "With this new building, we have a tremendous opportunity to promote music as essential to the performing arts and cultural diversity of our community—both are vital to the Andover experience."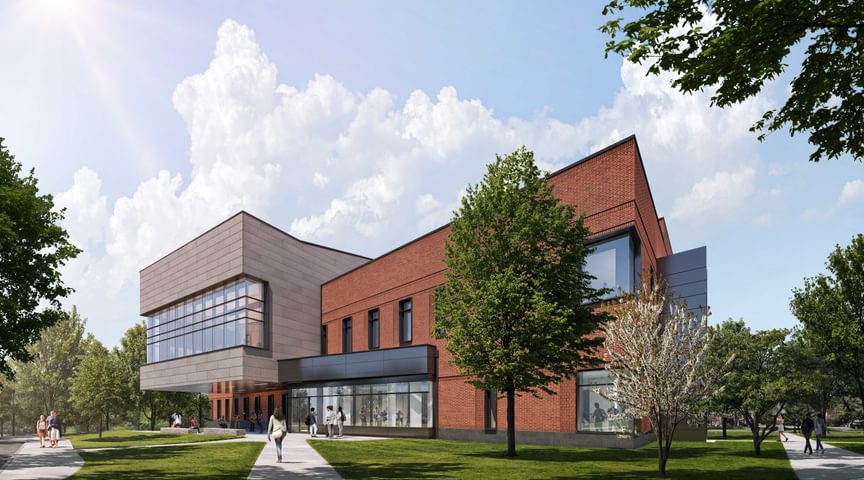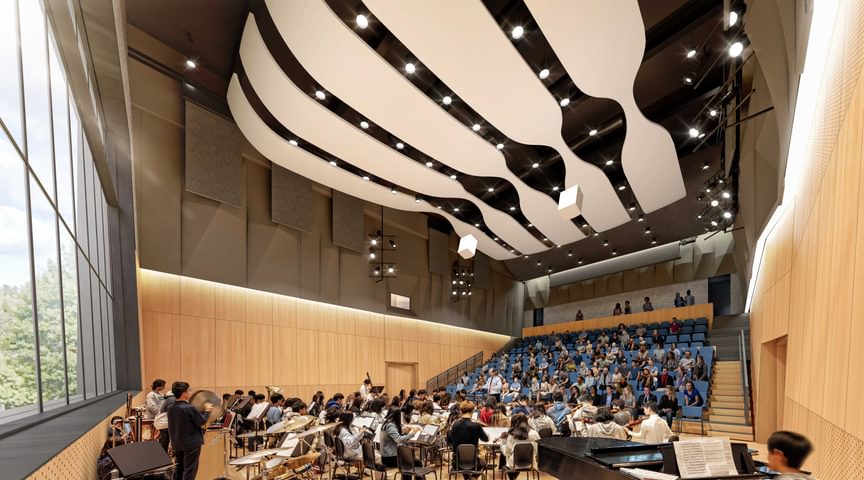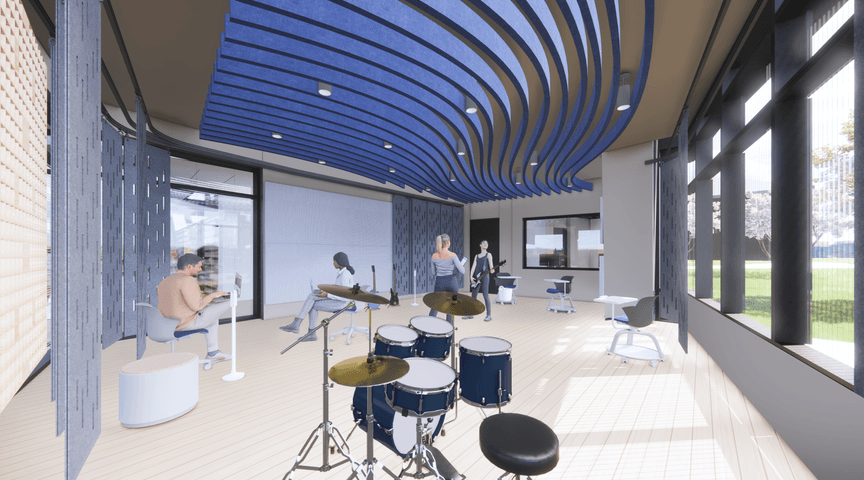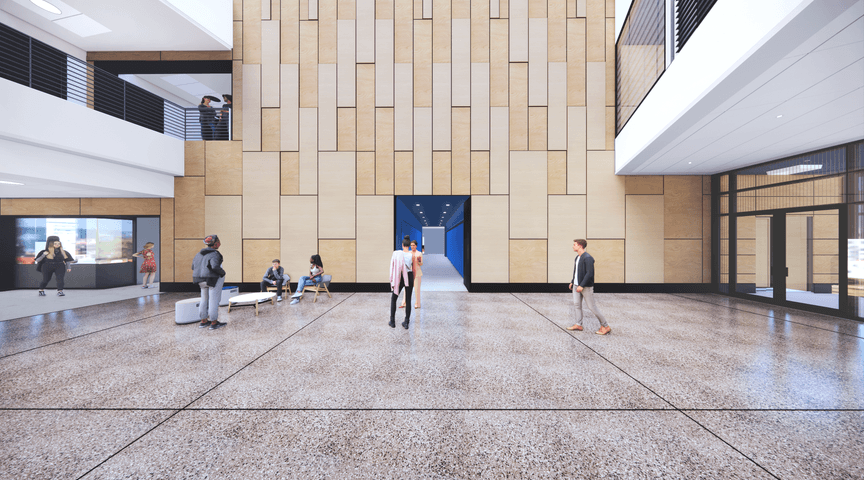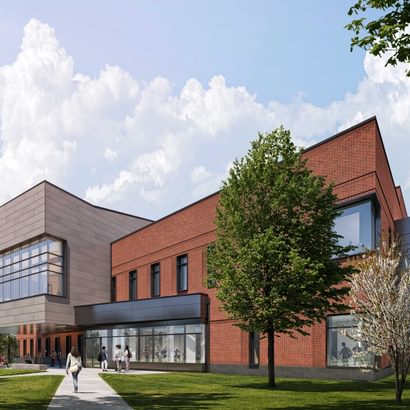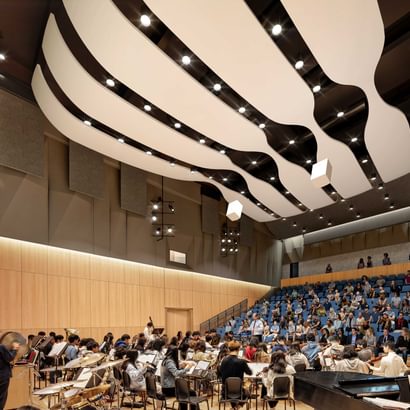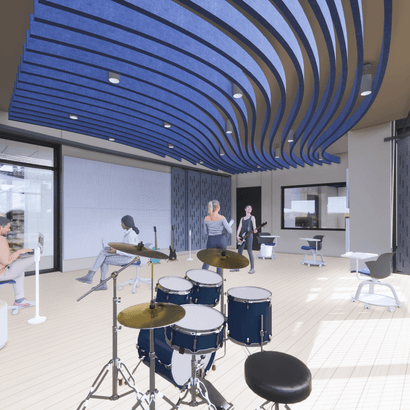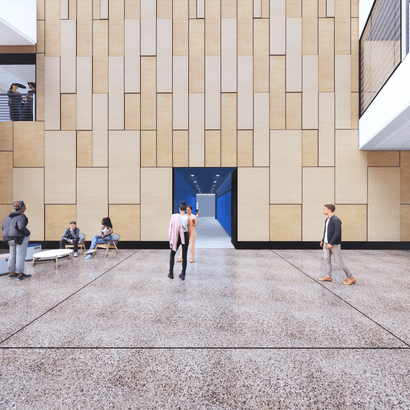 Expressing his gratitude to the Falls-Rogers family and all donors to the project, Head of School Raynard Kington, MD, PhD, P'24, said, "Our future music center symbolizes a fundamental commitment to the liberal arts and will further define our pursuit of intellectual and artistic creativity in its many forms."
As the Academy prepares to mark the 50th anniversary of coeducation, Kington added, "I am especially mindful of Amy's pathbreaking leadership. As Andover's first Chief Investment Officer, the first female Treasurer of the board, and the first woman to serve as board President, she has exemplified and championed diversity and non sibi."
Falls said her family's philanthropy was inspired by the music program's legacy, its outstanding faculty and students, and its promising future. "We are certainly not alone in our belief that Andover deserves a facility that reflects the world-class caliber of its program," she added. "Hundreds of alumni, parents, and friends have made this possible, and we are incredibly grateful for their support."

I remain grateful to all donors for their belief in our students and faculty and their investment in our future.
"
The building is scheduled to open in fall 2024 and will feature a 250-seat performance hall, flexible ensemble spaces, and classrooms. The center will also house 19 practice rooms, an expansive music library, an electronic music studio, technology labs, and a "rock room" with recording and broadcast capabilities.
"Music crosses all cultures and touches every corner of the world," said Billings Music Department Chair Abbey Siegfried P'25. "I remain grateful to all donors for their belief in our students and faculty and their investment in our future."
A new music center has been a longstanding need, she continued. "Graves Hall, which was built for science in 1882, simply cannot offer what we need. We have students composing their own music, recording soundtracks, and performing at the very highest levels. We also have students just beginning to learn an instrument and exploring what music means to them. This building will be for everyone."
Falls Hall is one of several capital enhancements initiated by the Knowledge & Goodness campaign, which recently surpassed its $400 million goal, finishing at $408.9 million.
---
Building renderings by ARC/Architectural Resources Cambridge
Other Stories